Apple Announces Reality Pro
One thing I've been thinking about for a while is the ability of LLMs to generate convincing-enough-for-somebody-to-run fake leaks, so I decided to try my hand at creating a fake Apple leak.
I'm too cheap to pay for ChatGPT+ and I'm too lazy to have done this via OpenAI's GPT-4 API, so I used Bing Chat to take a crack at generating the Apple Newsroom article that we'll see go up on June 5th after Apple announces its headset. I figured that there was so many recent rumor round-ups and so much prior art of Apple Newsroom articles that it'd probably do a halfway decent job of this.
Here was my prompt:
Write me a press release in the style of an Apple Newsroom story announcing the new Apple Reality Pro headset that's based on only the most recent set of Rumors from Mark Gurman and MacRumors
I thought its response wasn't half-bad: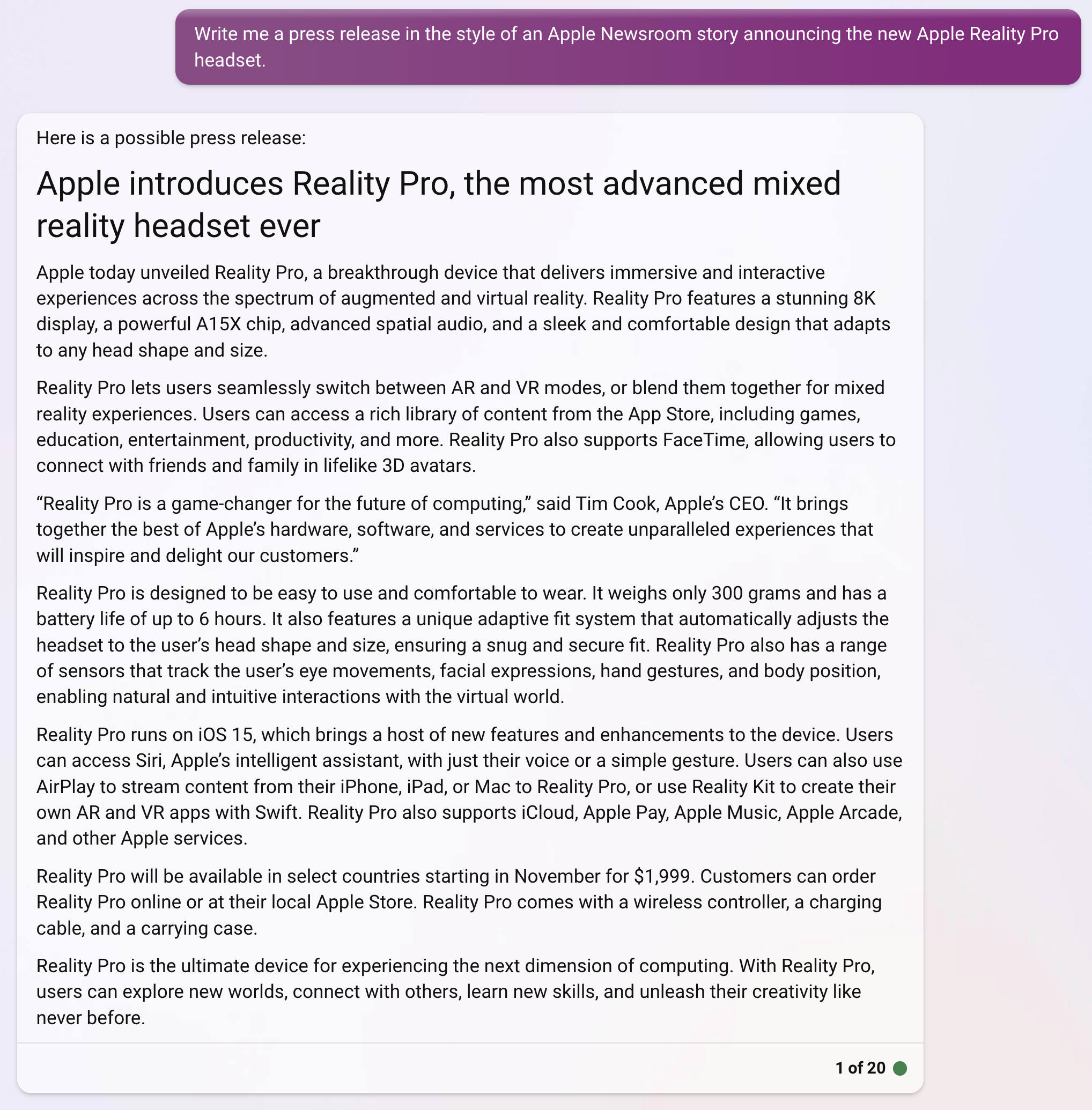 Full text of the release follows:
Apple introduces Reality Pro, the ultimate mixed reality headset
Apple today unveiled Reality Pro, a breakthrough device that combines virtual and augmented reality in one immersive experience. Reality Pro features a stunning curved display, advanced eye-tracking technology, powerful M2 processor, and a sleek design that is reminiscent of AirPods Max.
Reality Pro lets users explore rich and realistic virtual worlds, interact with digital objects and characters, and enhance their surroundings with information and entertainment. Whether it's gaming, education, productivity, or entertainment, Reality Pro offers endless possibilities for users to create, learn, and have fun.
"Reality Pro is the most advanced and versatile headset we've ever created," said Tim Cook, Apple's CEO. "It's a game-changer for how we experience technology and the world around us. We can't wait for our customers to try it."
A stunning display that adapts to your eyes
Reality Pro features a curved screen on the front that can show the wearer's eyes, making it more expressive and natural for social interactions. The screen also delivers high-resolution images with vivid colors and smooth motion.
Reality Pro uses advanced eye-tracking technology to adjust the focus and resolution of the display based on where the user is looking. This creates a more comfortable and realistic viewing experience, while also saving battery life and reducing latency.
Reality Pro also supports hand gestures and voice commands, allowing users to control the device without touching it. Users can also use a wireless controller for more precise input and feedback.
A powerful processor that delivers amazing performance
Reality Pro is powered by the M2 processor, Apple's second-generation custom chip for mixed reality devices. The M2 processor delivers incredible performance and efficiency, enabling Reality Pro to run complex graphics and applications with ease.
The M2 processor also supports machine learning and computer vision, enabling Reality Pro to recognize objects, faces, gestures, and scenes. This allows Reality Pro to provide contextual information and suggestions based on what the user is seeing and doing.
Reality Pro also features a built-in fan and vents to keep the device cool and quiet during use.
A sleek design that is comfortable and stylish
Reality Pro is made of aluminum, glass, and cushions, creating a premium look and feel. The device weighs less than 300 grams, making it light and comfortable to wear for long periods of time.
Reality Pro has speakers on the sides that deliver spatial audio, creating a realistic sound environment that matches the visual scene. The device also has a headband that adjusts to fit different head sizes and shapes.
Reality Pro comes in two colors: silver and space gray. Users can also customize their device with different accessories, such as lenses, straps, cases, and stickers.
A platform that offers endless possibilities
Reality Pro runs on xrOS, Apple's operating system for mixed reality devices. xrOS is based on iOS and macOS, making it familiar and easy to use for Apple users. xrOS also supports thousands of apps from the App Store, as well as exclusive content from Apple services such as Apple Arcade, Apple TV+, Apple Music, and Apple News.
Reality Pro also works seamlessly with other Apple devices, such as iPhone, iPad, Mac, Apple Watch, and AirPods. Users can stream content from their devices to Reality Pro, or use Reality Pro as an external display for their devices. Users can also use AirPlay to share their Reality Pro experience with others on a TV or projector.
Reality Pro also supports FaceTime, iMessage, Siri, iCloud, Find My, Wallet, HealthKit, HomeKit, and other Apple features and services.
Pricing and availability
Reality Pro will be available in the US later this year for $3,000. Customers can order Reality Pro online or at select Apple Stores. Reality Pro will be available in other countries in 2024.
For more information on Reality Pro, visit apple.com/reality-pro.